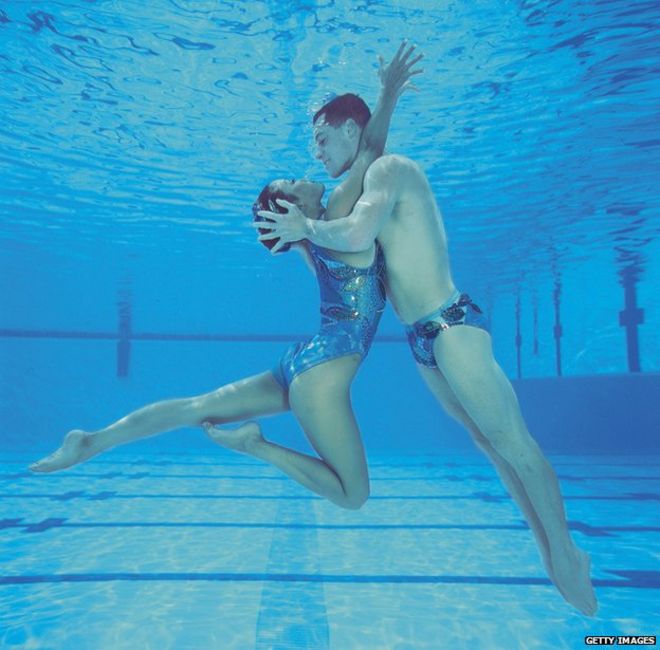 At the World Aquatics Championships, which begin this weekend in Russia, men will be competing in synchronised swimming for the first time. Men were a part of the sport at its inception, but until now they have always been barred from competing at the highest level. Will the door to the Olympics open next?
There is nothing in the world that can prevent 25 July 2015 from being the best day in Bill May's life. "It's something that I have dreamed of my entire life," he says, "to step out on that deck with the world's best."
Many already count May as one of the world's great synchronised swimmers. Next weekend, 11 years after he retired, he will get his chance to prove it. Whether or not he ends up winning his event, the chance to compete in the US team at the World Championships in the Russian city of Kazan is the delayed culmination of a career that has brought triumph and frustration in equal measure.
May made his big splash in 1998, when he and his partner Kristina Lum won the duet event at the US National Championships, then took silver at the Goodwill Games. He was named USA Synchro's athlete of the year in 1998 and 1999, and he went on to win 14 national events as well as titles in France, Germany, Italy and Switzerland.
But he was prevented from performing at the World Championships or the Olympics because it was seen at the highest level as a sport for women. May's coach Chris Carver said: "Let me tell you this - he not only would have made the team, he would have been among the very top of the competitors on the US team."